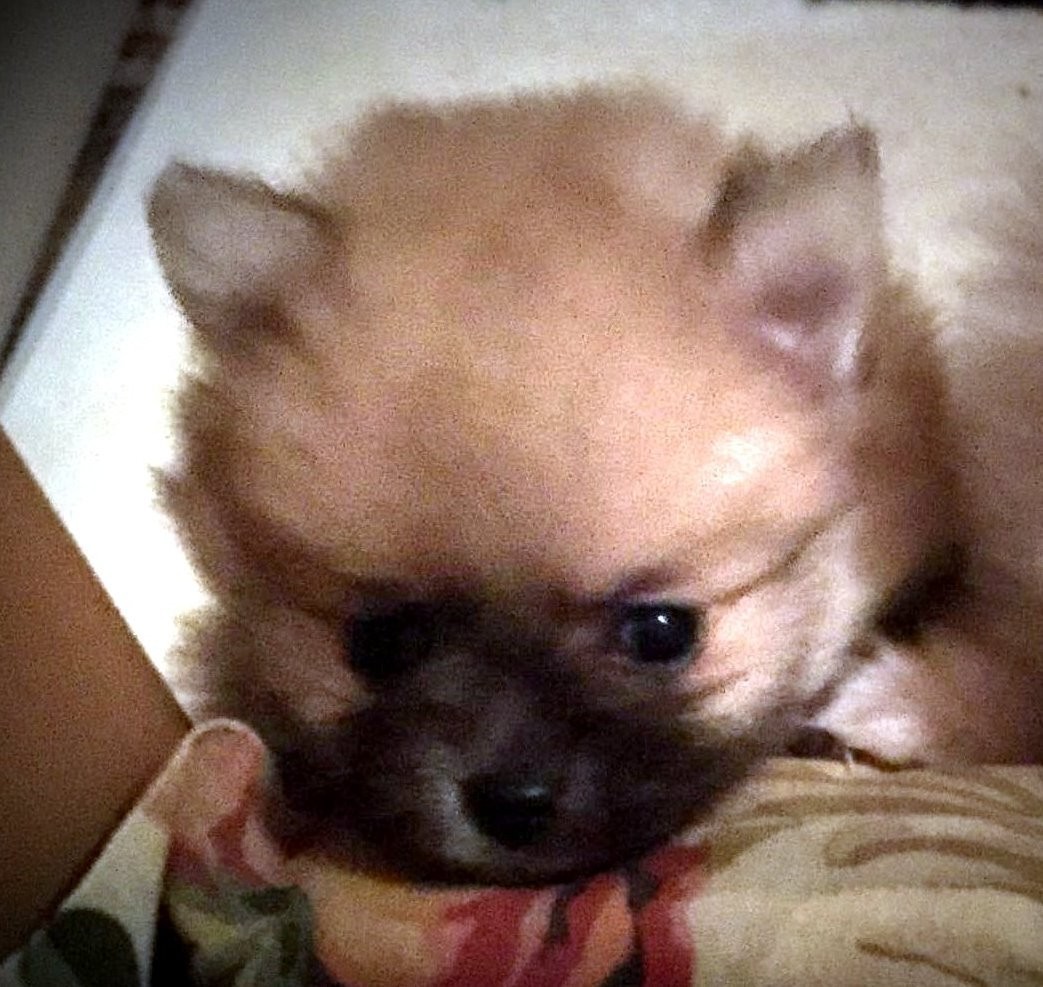 11:30 a.m.
I'm at the kennel, and while speaking with Bini, the owner, she's told me of two puppies who are twenty-days-old. They have been spoken for, however, she's very concerned over one puppy's future, because of how small they are going to be once grown. Most people feel animal babies are not very fragile, when in reality they are as much so as a human baby. So I understand fully her concerns.
"Can I see them?" I asked.

"You can, but you can't touch either of them," was her reply.
As she brought them out for me to see, I can't get over how they look more like guinea pigs than puppies. One is white, a little girl, and the other is a red sable, a little boy. Valentine Lady and Foxy were both orange-sables, and I like that color best. "It's too bad the red puppy isn't up for adoption," I said, while staying at a distance.
"It's not yet decided," she replied while whisking them back into the bedroom where their mother was waiting. When entering the front room she continued, "Let me speak with the other party, and if they are willing to wait for the next letter of puppies, I'll let you know."
"I would appreciate that," I said.
"There are some older dogs that would make wonderful pets, did you see any that would help you over the loss of your Foxy?" she inquired.
"They are all beautiful, but my heart needs to start over with a puppy. When you are speaking to the other party, and if they are willing to wait, could I buy him?" I asked.
"Yes," she answered.
"Thank you. However, if not then I'll have to wait, and see what happens. It's all in God's hands one way or another," I said before packing up to leave.
"I'll let you know in a few days," she assured me.
"Thank you. I look forward to your call," I replied as I drove away.

December 23, 2014
9:18 a.m.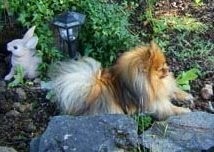 It's been a week since losing my Foxy, and I'm walking about in a haze of grief. It doesn't take a genius to know that I need another Pomeranian puppy to love and care for. Especially after all these years of having him with me.
My cell phone alarm just went off again. It's to remind me that I have to give Foxy his medications and insulin shots. I never thought that I'd miss doing this for him. But after doing it both morning and night it's become a habit, one that seems strange not having to do any longer. I could reset my phone not to ring, but that would be admitting he's no longer here with me. I can't do that just yet. I know it's going to take time, but I'll get over this. I had been blessed when finding Foxy after the loss of Valentine Lady, but will I be as blessed twice in a row with another sweet Pomeranian? I do hope so
As a photographer I love taking photo-shoots of animals. I not only get to be around some pretty amazing pets, but it also gives the owners new pics for their websites. This time I offered my services to a Pomeranian Kennel, the same one Foxy came from. I long to hold a Pomeranian again in my arms, and this might do the trick in helping me snap out of this gloom.
December 26, 2014
9:18 a.m.
Since my visit to the Pomeranian kennel I've thought of the puppy almost as
much as I do Foxy, so this has helped. However, they never called back, which
means there's not a chance I'll be able to have him. That's life. Anyway, I'm
sure the price was far more than I could afford, so it's for the best that she
didn't call.
Christmas was yesterday, and today Jason and Bob, two of my four sons, along
with some of my grandchildren are here with me. They are in the front room watching cartoons while I type this entry. We will soon be on Skype with my son David, who resides in New Jersey. I hope his wife Margie and my granddaughters, Kressie and Hannah, will be there, too. It's been so long since having a visit with them.
Being the loss of Foxy is still very fresh in my mind, I have several 8" X 10", color photos of him throughout my home. This way no matter where I am, it's as if he is still here with me. He's also on my computer screen. It cheers me up when seeing him smiling back at me.
The Skype music is playing on my computer, meaning the time is here at last. Everyone is rushing in as I place this letter at the bottom of the screen, and leave to get something to drink.

~~~~ Our Journey Begins ~~~~
The First Time
I Saw Prince Pippin.
by Dorene J. Stamper

While I was out of the room they brought up the Skype.
"Merry Christmas!" said everyone in unison. "That goes for me, too," I called back over my shoulder.
"How is Mom taking Foxy's passing?" David quietly asked of his brothers.
"She has pictures of him up all over the place," replied one of them.

By now I'm in the office, and have taken a seat.
"Mom, would you like to have another Pomeranian puppy?" asked David.
"Yes, I would love that," I replied with excitement. "Foxy helped me over the loss of Valley, and now I need one to help me over losing him."
"Do you know of a puppy we can buy for you?" he asked.
I thought of the Grange in Central Point. There had been a note on their cork board. But when calling them earlier, they told me that the note had been removed. So I guess those puppies are sold. But how about my friend Lou? Didn't she tell me of a breeder who has some Pomeranian puppies for sale? She was to send me photos of them, but never did. Then there is always the internet, and I'm sure there will be several on it. But what about the little red puppy? I may not have heard back, but that doesn't truly mean he's not for sale. "I've only seen one puppy so far that I like," I replied. "However, he may not be for sale. The breeder is to talk it over with the family who has first dibs on him. If they are willing to wait until the next litter, then I might be able to have him."
"When can you find out?" asked Jason.
"How about right now?" suggested Bob.
With that I headed for my bedroom to make the call. "No one's at home," I whisper. Returning to the office, "I'll have to call back later, being there's no one home right now."
"Once you find out then give me a call," said David.
The conversation headed off in a different direction, however, my thoughts were still on a tiny, red sable puppy that lives less than twenty-minutes from my home. I would like to have him even if he does look like a Guiney pig right now. lol
A couple hours passed, and the family was watching an animated Disney movie, when I heard the phone ring. I stepped out of the front room to take the call. Moments later I came rushing back announcing, "THE PUPPY IS MINE!"
When hearing this they texted David, and my other son John with the good news, while I called up Cindy, my daughter, who lives in Washington state.
"When will you be able to bring home the puppy?" asked Cindy.
"Being he was born on December 3rd, I won't be able to bring him home until about Valentine's Day," I replied.

"That will be a wonderful Valentine's Day gift," smiled Cindy. "I'm so happy for you, Mom. Keep us posted, and take all kinds of photos."
"The breeder said that I must be willing to visit him at least once a week until he's ready to go home," I explained, "And during that time I'm sure to take a ton of photos."
"Knowing you, Mom, you will faithfully be there, and taking more photos then you'll know what to do with," she laughed.
"You know me well," I chuckled. "And I'll be sure to send you the good ones."
"We're all looking forward to it," she said before hanging up.
This was a wonderful way to end Christmas of 2014. The loss of Foxy still weighs heavy on me, but the thought of a new puppy gives me something wonderful to look forward to. Yes, I may have a reason to smile after all.

Click on Pippin's Paw to return to the top of the page.
Bini sent this photo to me. They are so cute together.
This is Victorian Lace & Prince Pippin the Buffy Knight.
These picture were taken on one of my many visits.
This is my Mommy. She is with Victorian Lace, my sister, and me.